Planet Ark Stories and Ideas
Planet Ark Latest Stories »
Sign up to our monthly newsletter for fun, free eco living tips
Planet Ark is all about creating positive environmental actions, for everyone – but especially for you. And the easiest way to learn about those actions is to subscribe to one or more of our e-newsletters.
Whether you're looking for positive inspiration at home, at work or in the community you'll find something in our suite of e-newsletters. The newsletters include new trends, tips and tricks, special features, and promotions and competitions - all designed to make your life a little greener.
Sign up to one or more of the newsletters here.
Privacy Statement: Email address and other information collected on this form is for use only by Planet Ark for the purpose of sending our newsletters to subscribers. No information is shared with any other group or organisation.
Latest Stories
Date: 27-Feb-12
Author: Lucy Band
The Silene stenophylla is considered the oldest plant ever to be regenerated, thanks to the Institute of Cell Biophysics under the Russian Academy Of Sciences.
Date: 21-Feb-12
Author: Lucy Band
Australian Greens Party member of the Victorian state parliament, Colleen Hartland, has launched a new retro-style postcard as part of an intensifying campaign to have a 10-cent deposit on bottles, cans and cartons in the state.
Date: 15-Feb-12
Author: Chris Philpot
Great reuse of wood from shipping pallets to decorate a Bangkok shop interior.
Date: 14-Feb-12
Author: Lucy Band
The City of Fremantle are set become the first Australian council to outlaw single-use plastic shopping bags under plans to turn longstanding policy into law.
Date: 09-Feb-12
Author: Lucy Band
The Grand Canyon will soon ban the sale of bottled water, responding to concerns that empty plastic bottles scattered around the park are spoiling views of the natural wonder. Follow the World Environment News on twitter @worldenvironews.
Date: 08-Feb-12
Author: Lucy Band
Bidders will be able to buy fine art, a vacation in the Maldives, or an internship with designer Donna Karan and help the planet at the same time in Christie's annual Green Auction, which is expected reap millions for environmental causes.Follow the World Environment News on twitter @worldenvironews.
Date: 06-Feb-12
Author: Lucy Band
Ever wondered what it would be like to coordinate a tree day event in your local community or school? To give you an idea we asked some of last years first time coordinators to tell us what they thought.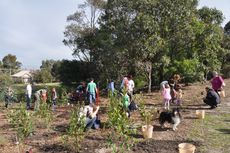 Date: 06-Feb-12
Author: Lucy Band
Planet Ark is calling on all Australians to get involved in National Tree Day and help inspire their local communities to value and care for the environment.
Date: 06-Feb-12
Author: Lucy Band
Lions Clubs have supported National Tree Day since the event began in 1995. In 2012 this partnership takes on a new significance.
Date: 27-Jan-12
Author: Zhi Yan
ACT charity groups that assist resource recovery are eligible to have their landfill fees waived.
Date: 17-Jan-12
Author: Gordon Miller, Guardian Professional Network
Cross-laminated timber is fast becoming recognized as an environmentally friendly material, which can help reduce carbon emissions and store carbon. The UK's Guardian explains more....
Date: 16-Jan-12
Author: Chris Philpot
Here is your opportunity to join an exclusive group of architects, engineers and property developers on a 5 day tour of some of UK's most innovative and interesting timber projects. (Strictly limited to 25 places.) This not to be missed experience will enable you to visit places and meet people you would not usually be able to access!