Planet Ark Stories and Ideas
Planet Ark Latest Stories »
Sign up to our monthly newsletter for fun, free eco living tips
Planet Ark is all about creating positive environmental actions, for everyone – but especially for you. And the easiest way to learn about those actions is to subscribe to one or more of our e-newsletters.
Whether you're looking for positive inspiration at home, at work or in the community you'll find something in our suite of e-newsletters. The newsletters include new trends, tips and tricks, special features, and promotions and competitions - all designed to make your life a little greener.
Sign up to one or more of the newsletters here.
Privacy Statement: Email address and other information collected on this form is for use only by Planet Ark for the purpose of sending our newsletters to subscribers. No information is shared with any other group or organisation.
Latest Stories
Date: 24-Apr-15
Author: Claire Grant
We urgently need to wake up to link between human health and the natural environment and make a personal and and collective commitment to reconnect with the great outdoors
Date: 17-Apr-15
Author: Joe Baker
Among the substances polluting our land and water, plastic is both insidious and destructive. Single-use plastic bags are among the most damaging.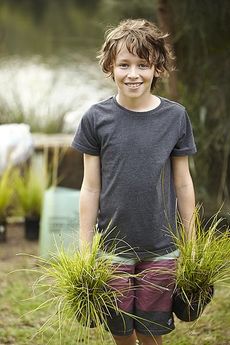 Date: 16-Apr-15
Author: Claire Grant
Join Planet Ark and over 280,000 educators, children and parents in celebrating Schools Tree Day the week of Friday July 24, 2015.
Date: 13-Apr-15
Author: Marty McCarthy (ABC)
Farming sustainably can often be expensive, but Queensland researchers have found a way for aquaculture to profit from being eco-friendly, by growing worms in waste water.
Date: 13-Apr-15
Author: Daily Mail UK
More than £460 million has been raised for the world's first dedicated offshore wind fund to invest in wind farms off the UK's coasts.
Date: 13-Apr-15
Author: Emily Donnelly
Re-purposing discarded objects through art and design could inspire consumers to be more conscious and provide solutions to the world's waste problems.
Date: 13-Apr-15
Author: Gordon Lane
Shifts in the accommodation preferences of tourists could prompt an increasing number of hoteliers to adopt green building measures.
Date: 07-Apr-15
Author: Chris Philpot
Rotorua District Council in New Zealand has become the latest to announce a wood first policy and action plan.
Date: 01-Apr-15
Author: Emily Donnelly
What is the effect of being surrounded by wood on students, workers, the elderly and patients in a hospital? A new report released by Planet Ark titled Wood - Housing, Health, Humanity brings together research from around the world that is starting to answer these questions. It's important reading for parents, teachers, health care workers and anyone interested in building their health and wellbeing.
Date: 01-Apr-15
Author: Emily Donnelly
Are you looking for some fitspiration? With fun run season just around the corner, we're giving you the opportunity to get fit, give back and get your hands on a 100% organic cotton Planet Ark t-shirt.
Date: 01-Apr-15
Author: Ryan Collins
Easter is a busy and fun time of year but it doesn't need to come with an Easter bunny shaped eco-footprint.
Date: 23-Mar-15
Author: We need your help and we're offering you the chance to win an iPad or tablet of your choice to the value of AUD $850!