Planet Ark Stories and Ideas
Planet Ark Latest Stories »
Sign up to our monthly newsletter for fun, free eco living tips
Planet Ark is all about creating positive environmental actions, for everyone – but especially for you. And the easiest way to learn about those actions is to subscribe to one or more of our e-newsletters.
Whether you're looking for positive inspiration at home, at work or in the community you'll find something in our suite of e-newsletters. The newsletters include new trends, tips and tricks, special features, and promotions and competitions - all designed to make your life a little greener.
Sign up to one or more of the newsletters here.
Privacy Statement: Email address and other information collected on this form is for use only by Planet Ark for the purpose of sending our newsletters to subscribers. No information is shared with any other group or organisation.
Latest Stories
Date: 07-Oct-10
Author: Lucy Band
Palm oil is used in a range of everyday products from food and cosmetics to soaps and detergents. Unfortunately the increasing demand for this versatile vegetable oil is causing the rapid clearing of rainforests in South-East Asia, home to the amazing Sumatran and Bornean orangutans. Find out how Aware laundry are helping put a stop to this.
Date: 27-Sep-10
Author: Lucy Band
An industry body for sustainable palm oil has made its first public censure of a member, saying Indonesia's PT SMART Tbk breached its principles and may face sanctions, and also ticked off the firm's parent.
Date: 14-Sep-10
Author: Lucy Band
We were overwhelmed with the response to the Australian Tree Stories competition and would like to thank everyone that entered. So THANKS!
Date: 25-Aug-10
Author: Tracey Yong
Planet Ark have extended the closing date for the "Life Is Better With Trees" Schools competition to Friday 29 October 2010. Best of luck to all participants!
Date: 19-Aug-10
Author: Michelle Cook
Planet Ark is pleased to announce ALDI is the first company to join the Carbon Reduction Label program in Australia.
Date: 12-Aug-10
Author: Janet Sparrow
The second Australasian Industrial Ecology Conference is coming to Sydney from 2 - 3 September 2010.
Date: 12-Aug-10
Author: Tracey Yong
Find out how you can join Julia Gillard in the fight against climate change.
Date: 03-Aug-10
Author: Tracey Yong
A big thank you to all the wonderful volunteers who participated in National Tree Day and Schools Tree Day this year.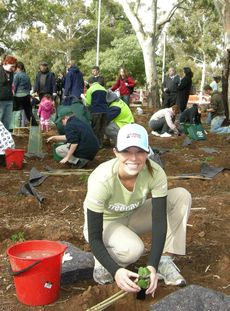 Date: 23-Jul-10
Author: Tracey Yong
Colonial First State is helping hundreds of native trees find good homes this National Tree Day.
Date: 15-Jul-10
Author: Zhi Yan
Finding recycling options for Computers and Electronics has remained the number one concern for visitors to this website for the second year in a row.
Date: 13-Jul-10
Author: Tracey Yong
Click here to find out how you can win one of 50 copies of Peter Carnavas' new book "The Last Tree in the City"
Date: 07-Jul-10
Author: Zhi Yan
Small businesses in the City of Sydney can now enter the City's Business Awards 2010.