Planet Ark News
Planet Ark Latest Stories »
Sign up to our monthly newsletter for fun, free eco living tips
Planet Ark is all about creating positive environmental actions, for everyone – but especially for you. And the easiest way to learn about those actions is to subscribe to one or more of our e-newsletters.
Whether you're looking for positive inspiration at home, at work or in the community you'll find something in our suite of e-newsletters. The newsletters include new trends, tips and tricks, special features, and promotions and competitions - all designed to make your life a little greener.
Sign up to one or more of the newsletters here.
Privacy Statement: Email address and other information collected on this form is for use only by Planet Ark for the purpose of sending our newsletters to subscribers. No information is shared with any other group or organisation.
Latest Stories
Date: 15-Jun-12
Author: Ryan Collins
Businesses across Australia can no longer recycle mobile phones, chargers and accessories in their 'Cartridges 4 Planet Ark' collection boxes.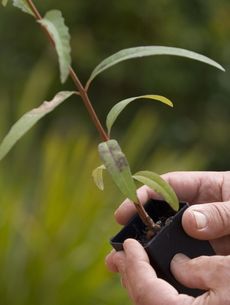 Date: 15-Jun-12
Author: Zo Zhou
Victoria's 2 Million Trees initiative will provide trees for National Tree Day sites in VIC to help their aim of planting over 2 million native plants in the area before 2014.
Date: 12-Jun-12
Author: Chris Philpot

Date: 08-Jun-12
Author: Chris Philpot

Date: 05-Jun-12
Author: Chris Philpot
Forté will be the tallest timber apartment building in the world - at 32.17 metres tall. By using CLT, Forté, will reduce CO2 equivalent emissions by more than 1,400 tonnes when compared to concrete and steel - the equivalent of removing 345 cars from our roads.
Date: 05-Jun-12
Author: Chris Philpot
Interested in learning about tall buildings made from wood? WoodSolutions is holding two half day seminars on 20 June in Melbourne. Come along and hear from three speakers and enjoy an exclusive visit of the Worlds Tallest Multi-Residential Timber Building at Victoria Harbour in the Docklands - Lend Lease's Forte.
Date: 25-May-12
Author: Ryan Collins
NSW small and large businesses, individuals, state and local government and community groups who can demonstrate significant environmental achievements in NSW are encouraged to apply for a Green Globe Award.
Date: 16-May-12
Author: Janet Sparrow
During May 2012, residents and small businesses in regional South Australia can recycle their unwanted computer and electrical equipment, free of charge. The collected e-waste will then be recycled into many components, instead of going into landfill.
Date: 15-May-12
Author: Janet Sparrow
Experts on product stewardship will provide a practical product stewardship implementation workshop at the Enviro 2012 Conference & Exhibition in Adelaide.
Date: 09-May-12
Author: Janet Sparrow
The NSW Environment Protection Authority and the Australian Packaging Covenant are making $830,000 available to increase the recovery of expanded polystyrene (EPS) from the waste stream.
Date: 04-May-12
Author: Chris Philpot
The Australian Forestry Standard Limited (AFS Ltd) has announced the commencement of the first public comment phase of the revision process of the Australian Standard for Sustainable Forest Management (AS 4708).
Date: 01-May-12
Author: Janet Sparrow
The NSW Timber Development Association and the NSW Environment Protection Authority present a seminar to increase the recycling of commercial and industrial timber in NSW.