Tree Day Goes Troppo!
Date: 03-Dec-08

Tropical Tree Day is held in December every year to coincide with the onset of Northern Australia's wet season. Planting in the Top End at this time of year gives seedlings the best chance of survival.
Tropical Tree Day is one of twelve alternate National Tree Day planting dates held throughout the year to suit the corners of the country that aren't suited to the July date of National Tree Day.
This year's Tropical Tree Day saw a host of community, green groups, councils and local businesses in Queensland's Far North and WA's Kimberley region get their hands dirty. In Cairns, Conservation Volunteers worked to rehabilitate a remnant swamp while volunteers in Kununurra created a habitat corridor for local native wildlife.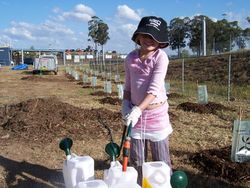 To join your local environmental group and provide on-going care to our native plants and trees visit TreeDay.PlanetArk.org or call the National Tree Day Hotline on 1300 88 5000. Keep an eye out for information on how to get involved in next year's National Tree Day in future editions of Aware.