At Work
Find out here how we can help you get the job done without doing a job on the environment.
We've made it our business to provide you with ideas for bringing environmentally positive actions to the workplace. There are so many ways you and your colleagues can make a positive impact at work with Planet Ark's campaigns.
Take a look at our campaigns, find out more, and be inspired!
---
Whether you run a café, a garage, a factory or an office, you will be able to find re-use or recycling options for much of the waste generated by your workplace.
The BusinessRecycling website is specifically designed to make it easy for Australian small to medium sized business find re-use and recycling services in their area.
---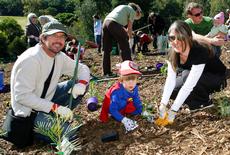 Research released by Planet Ark shows that Australians are willing to give up an average of $3,674* pay to be able to work in a more natural workplace. However, 28% of workers can't see any natural features from their workspace. It also shows that having plants around the office helps workers recover from tiredness more quickly, reduces the presence of airborne bacteria and increases productivity.
---
National Recycling Week is the perfect time of year to popularise the many aspects of recycling in your workplace. Visit the
website
to see all the available options.
---
Only around 1 in every 10 sheets of office paper gets recycled. Much of it ends up 'stored' in files that will never be read again. By hosting a Friday File Fling, you can declutter your office and get good, reusable office paper back into circulation.
---
Paper is one of the most commonly recycled materials - but did you know that you can now buy high quality 100% recycled office paper that's also FSC certified and carbon neutral? Close the paper loop and get recycled paper today.
---
With Planet Ark Power - your workplace could run a mini-power staiton on its roof! Panels are installed free, then your power bills pay off the installation. So the accountant won't notice a thing!
---
Your workplace can apply for a FREE cartridge collection box. You just need to use more than three cartridges a month.
---
Research by Planet Ark demonstrates wooden structures not only look good, but do good. Wood structures at your workplace will have positive impact on employees and customers.
---
Planet Ark now offers a service through which a Planet Ark team member supports your business to develop a streamlined calendar of workplace sustainability activities.
---
Stay in the loop with all the latest environmental news from Planet Ark with our GreenWorks newsletter.