Planet Ark Stories and Ideas
Planet Ark Latest Stories »
Sign up to our monthly newsletter for fun, free eco living tips
Planet Ark is all about creating positive environmental actions, for everyone – but especially for you. And the easiest way to learn about those actions is to subscribe to one or more of our e-newsletters.
Whether you're looking for positive inspiration at home, at work or in the community you'll find something in our suite of e-newsletters. The newsletters include new trends, tips and tricks, special features, and promotions and competitions - all designed to make your life a little greener.
Sign up to one or more of the newsletters here.
Privacy Statement: Email address and other information collected on this form is for use only by Planet Ark for the purpose of sending our newsletters to subscribers. No information is shared with any other group or organisation.
Latest Stories
Date: 17-Sep-13
Author: Sara McGregor
Australian businesses are spending more than $2.2 billion each year on waste services, of which $1.4 billion is spent on waste to landfill. As waste disposal costs increase, it makes financial sense to look for recycling options for the wide range of waste materials generated by businesses.
Date: 10-Sep-13
Author: Ryan Collins
This three-day event is essential for anyone with an interest in the development of innovations for the use and reuse of waste materials. Find out more...
Date: 05-Sep-13
Author: Ryan Collins
Expressions of Interest are now open for 'Smarter Resources, Smarter Business: Recycling' funding which will be provided for infrastructure, training and education...
Date: 28-Aug-13
Author: Ryan Collins
There are many more benefits to eWood than just being made from recycled cartridges collected through the 'Cartridges 4 Planet Ark' program. And there are a multitude of eWood products, from garden beds to retaining walls to outdoor furniture to decking to farm fencing. Find out why eWood is perfect for our outdoor Aussie environment.
Date: 27-Aug-13
Author: Ryan Collins
Supported by Planet Ark, MobileMuster and TES-AMM, Vodafone's #BigLifeSwitch visited Melbourne, Sydney and Brisbane in July. It recycled 1,271.5 kg of mobile phones, TV remotes, pedometers, music players, digital cameras and game consoles, in just one week!!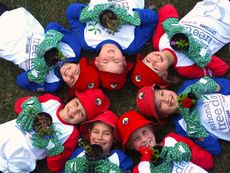 Date: 26-Aug-13
Author: Zo Zhou
Have an idea or feedback to share? Let us know so we can help improve your experience for 2014. Simply fill out our quick one page tailored survey - it shouldn't take more than a few minutes.
Date: 20-Aug-13
Author: Ryan Collins
Century Yuasa recycles 98% of car battery components, a much needed service for the 7.6 million consumed each year. Find out how you can safely dispose of your car battery...
Date: 16-Aug-13
Author: Chris Philpot
Caption: Seminar will address current topical issues, fresh ideas, perspectives and information that will help build better business futures. It will also feature international speakers from Chile, Switzerland, Canada and New Zealand
Date: 09-Aug-13
Author: Chris Philpot
Due to the success of last years brilliant WoodSolutions tour to the UK a further tour is planned from Munich to Zurich for this December. Are you an architect, engineer, developer, building professional or just interested in learning more about how you can build with wood? If so, then this tour may be for you.
Date: 09-Aug-13
Author: Zo Zhou
Whether you missed your local Tree Planting event or simply want to bring the Tree Day experience home, it's not too late to bring a little green home. Tell us what you're planting at home and we'll send you 2 Free Seedsticks packs to help you Get Outside and Grow in your very own garden!
Date: 06-Aug-13
Author: Zo Zhou
We received almost 200 entries from schools across Australia showing us how they were getting their students to Get Outside and Grow! Check out the winners...

Date: 29-Jul-13
Author: Zo Zhou
Thank you so much Australia for planting the seed for a greener future. This year we've seen over 3,900 events run by schools, councils, community groups, families, dedicated individuals, Toyota dealers and other businesses take part.